Philosophy
Serious yet playful.
Our work is to create things tangible and abstract;
to create a platform that connects people and society through design.

The platform we create through design allows people and society to freely coexist.
It is here that pre-existing structures evolve from its "grid" form with time.

We are NON-GRID;
the very person and society we aim to be.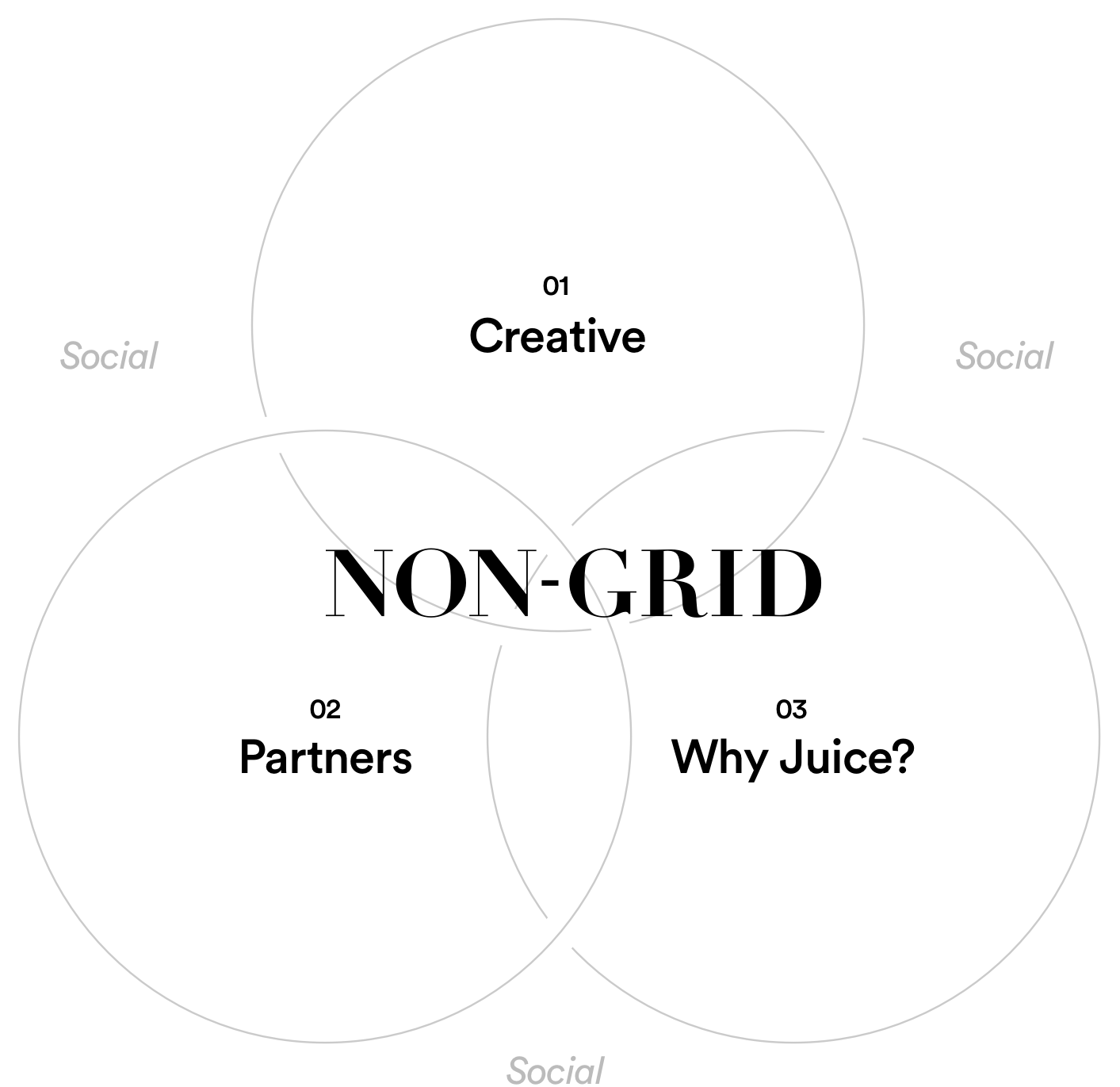 Creative Platform
01

Creative work

NON-GRID has been renowned for the quality of its visual communication design especially in the digital creative field. Additionally, we run a successful creator management division (since 2013), and started our own brand Why Juice? (in 2014).
02

Creator Partnership

When we say "creator management", it is not only about keeping track of each creator's activity. We cooperate from concept development through production, realizing the best execution possible.
03

Why Juice?

2014年からはWhy Juice?などのブランドプロデュースをスタートしました。Why Juice?は、現代人に必要な「バランスのとれた食生活」を、Easy&Fastなアプローチで解決するジュースブランドです。1日に必要な野菜の栄養を、おいしく簡単で、Reasonable(理にかなった方法、プライス)にかなえてくれるアイテムを揃えています。
Company Information
COMPANY

NON-GRID INC.

ADDRESS

1F, 5-2 Shinsen, Shibuya, Tokyo,#150-0045
One minute on foot from Keio Inokashira Shinsen Station / 15 minutes on foot from Shibuya station
View Google Map

REPRESENTATIVE

Hiroshi Koike

FOUDEND

2000.04.30

TEL / FAX

03-5428-8686 / 03-5428-8685

CAPITAL

10 million JPY

SERVICE

1. Branding design

Providing exceptional total design service through concept-making by working with communication designers, planners, visual artists, and product designers.

2. Communication design

Providing efficient and excellent communication design through content and information architecture and the selection of relevant media and device.

3. Digital communication

Providing new user experience with the latest technologies and creating human-centric story content .

4. Visual design

Providing excellent visual communication through various media such as graphic design and installations made by visual artists and art directors.
History
2000

領域をまたいだデザイン

百貨店勤務時の経験から消費者目線を生かしたコミュニケーションを作り手側の仕事に盛り込んでいきたい、という思いで小池博史が創業。ウェブにとらわれず、グラフィック、プロダクトデザインなども広く手がける。

- client:ageHa、STUDIO COAST、TOWER RECORDS、NIKE
2005

デザインとテクノロジー

テクノロジーを活用したデザインにチャレンジするためイメージソースと提携を結び、新しい体験型のコンテンツを提供。デジタルサイネージなど実験的な取り組みを開始する

- client:GUCCI 、KOTORI、DIESEL、Dior、NIKE、UNIQLO
2010

メディアとテクノロジーの融合

ウェブ・屋外広告・イベント・ストアなど、メディアを横断したテクノロジーの活用実績を多方面で展開する。

- client:大林組、幻冬舎、JR東日本ウォータービジネス、SHARP、Hikarie、PUMA、Flip-Dots、Mercedes-Benz
2015

ブランディング・プロデュース始動

自社ブランド『Why Juice?』を皮切りに、様々なブランドのブランディング・プロデュースを手がける。

2010年からスタートしたクリエイターマネージメント事業本格始動
国内のトップクリエイターと連携することで質の高いクリエイティブを生み出し、双方の可能性を引き出す。

- work/client:Why Juice?、#ALISA、うちゅうブルーイング、NTT docomo、奥能登国際芸術祭、かほる茶豆、KIRIN、Qualita
2018

デザインコンサルティング企業へ

デザイン・テクノロジー・自社/他社ブランドのブランディング・プロデュース・クリエイターネットワークなど、これまでに得た経験と知見をフル活用した総合的なデザインコンサルティング企業を目指す。

- client:zoff、白馬館グループ、HARE、FULTON、星野リゾート、RE FARM、Louis Vuitton
Client
ART FRONT GALLERY

ADASTRIA

INTERMESTIC

UCHU COMPANY

ADK

NTT docomo

Obayashi Corporation

Kering Japan(GUCCI)

GENTOSHA

SAZABY LEAGUE

JR East Water Business Co Ltd

CHANEL

Sogen Sake Brewery

DESIGNART

Deloitte Tohmatsu

Dentsu

NIKE

Hearst Fujingaho Co., Ltd.

PARTY

Hakuba Village

HAKUHODO Inc.

PAL

Futaba Tsushinsha .,Co,Ltd

Hoshino Resorts

UNIT ONE

Richemont Japan Limited(Chloé)

Louis Vuitton Japan
The NON-GRID Grid System embodies the philosophy of the company.
It is designed to not align in form, but randomly generate new format layouts
or simply give a flavor of the grid to any design.
The layout plays around intuitively according to paper or display size.